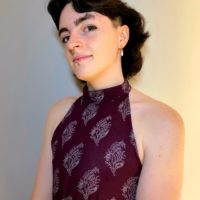 Valentine Alister-Fox Bonner '22
Valentine Alister-Fox Bonner is a printmaker and painter currently enrolled at Maine College of Art & Design, expected to graduate in May 2022 with a BFA. Raised in Maryland and currently residing in Portland, Maine, their work has previously been displayed at the Abigail Ogilvy Gallery in Boston, Massachusetts, during the Fresh Faces 2021 exhibition.
An ex-Catholic and practicing Quaker, Bonner's work is heavily influenced by their religious views. Their work often uses images of angels doing daily chores such as washing dishes or folding laundry. Bonner believes there is holiness to be found in normalcy, and views making art as a form of worship. The labor of a difficult print practice such as stone lithography imbues the work with extra care and reflects the subject of everyday labors.
Man Showering, oil on canvasette, 24×18, 2020. This semi-realistic, partialy abstract painting depicts a nude transgender man standing in a
Washing the Dishes, three layer stone lithograph, 15×11, 2021. The subject of the print is the figure in the top