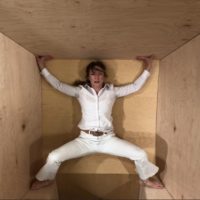 Brace is an interdisciplinary artist whose work addresses the relationship between intersectional feminism and socio-politics through her use of dance, technology art and installation. Brace currently teaches at Maine College of Art and Design.
Brace has recently exhibited "Stage" at The Charles Danforth Gallery, University of Maine at Augusta and completed "Year Long Performance", a performance piece wearing the same all-white outfit for the entirety of 2021.
Brace attended the residency at MASS MoCA in May of 2022 and is the recipient of the Alumni Residency at MECA&D for July.
Brace has recently received the Professional Development Grant from MECAD and the Women Invigorating the Curriculum and Cultivating Diversity Committee Grant from University of Maine at Augusta.