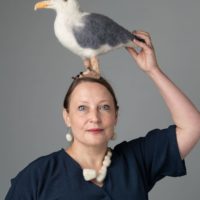 I felt the world around me. My inspiration comes from childhood memories growing up in the Soviet Russia, and now my life in Maine. The often symbolic- elements of the functional objects I create present a spectrum of color and texture perspective, and combine both, the aesthetics of artistic presentation and manual craft skill. I want people to see beauty in ordinary functional objects that they use and see in everyday life. These pieces hold memories and tell stories connecting past and present.
Wool painting, 10.5″ l x 8.5″ h x 1″ w stretched over canvas. Bergschaf wool, Romney wool, virgin wool prefelt.
Wool painting 24″l x 18″h x 1″w on Monk's cloth, stretched over canvas. Needle felted Romney wool. Year: 2020.
Wool painting, 15.5″ l x 13″ h, uneven edges, stretched over 18″ l x 14″ h x 3/4″ w canvas.