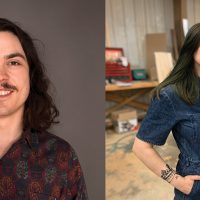 Kincaid P. & Naomi R. '19
Our designs are based on the inspiration that comes from our surroundings. Drawing from the natural repetition, movement, and rhythm that inhabit coastal Maine. We take this influence and abstract it to the underlying forms and color that can be found. We often showcase these shapes and natural colors alongside the functional aspects of our objects. Functionality lies at the heart of our work. We use it as a way to draw people in by creating a directed performance. This act involves intimate furnishings that often mimic human qualities through ergonomics and shape. The design fully takes form when the object is interacted with.
Naomi & Kincaid's Art for Sale
Available to view at the ICA at MECA June 17-20.