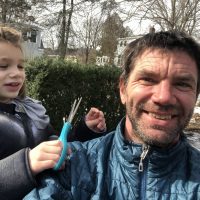 Gideon Bok (attended) '88
Gideon Bok received a BA from Hampshire College in 1992 and an MFA from Yale School of Art in 1996. Working from perception, he makes oil on canvas and panel paintings and large-scale temporary drawing installations, and also makes occasional sound-art collaborations, photographs and etchings, among other things. His work is represented by Alpha Gallery in Boston, and by Steven Harvey Fine Art Projects in New York City. His work is in many public and private collections.
Bok is the recipient of a purchase award by the American Academy of Arts and Letters, a Guggenheim Fellowship and an ART award by the Berkshire Taconic Arts foundation. He has taught at the New York Studio School, Hampshire College, Yale Norfolk Program, University of Southern Maine and the College of Fine Arts at Boston University, among other places. He has had numerous solo and group shows across the country and has visited numerous MFA and undergraduate art programs. Bok also manages an organic farm in Camden, Maine.