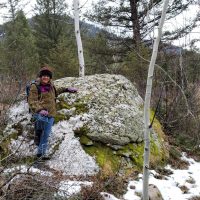 Estelle L. Roberge was born in Biddeford, Maine, the sixth of nine children, and grew up in a Franco-American Irish-Canadian household, surrounded by industrial factories and triple decker tenement buildings. She graduated from nearby Portland School of Art and the University of Southern Maine in the 1980s and later travelled west in search of employment, finally making a home in Magdalena, New Mexico where she taught art. The wilderness settings inspired her to abstract landscapes. Her frequent walks took her out into the Magdalena and San Mateo Mountains and into Utah. Her works have focused on the interplay of memory, place and presence within wild terrains. Recently, she has returned to an early interest in the human figure. In this body of work, she traverses and wanders between figurative abstractions and regional landscapes as she goes deeper into fields, shapes and layers of color.
Available to view at the ICA at MECA June 17-20.
Available to view at the ICA at MECA June 17-20.