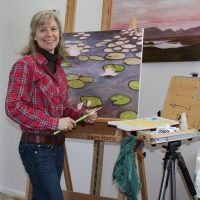 Katherine Noble Churchhill
Born and raised in Maine, I am most inspired by bright colors of plants and animals in the Maine landscape and on the water. My paintings are a combination of impressionism and painterly realism reflecting local colors while recording a feeling from the initial inspiration along with the learning and discovery that develops while painting and closely studying a subject. I do both studio work and plein air painting, including commissions from my home studio in Bar Harbor.
Online Exclusive Available for local pickup and shipping.