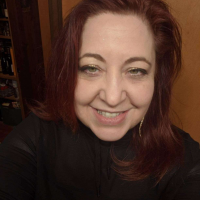 Painter Jennifer Benn's work examines technology and its effect on the world. Through the research of drawing, painting and visually and socially examining computers, rockets, space-shuttles and other sci-fi images, and their place in our time. She seeks to comprehend them better and to re-present them for the viewer in a revealed vision. It is through visual interpretation that Benn hopes to reawaken our senses and minds to notice how technology has changed the world.
A long time science fiction and cyberpunk fan, she believes that synchronicity also has a hand in providing the right books, people, machines, media, ideas, and images to further support her thesis. Benn was selected to visit NASA's Michoud Assembly Facility and Stennis Space Center as a social media blogger and correspondent for the Space Launch System. The SLS is a super heavy-lift launch vehicle that is part of NASA's deep space exploration plans and includes a crewed mission to Mars.
In 1994 Benn earned a MFA in Painting from Syracuse University and
previously a BFA from the University of New Hampshire. Benn has exhibited
her work throughout New England and the USA. A college art instructor for
over 12 years – she currently teaches continuing studies classes in painting at Maine College of Art. She works at her studio at the Button Factory and invites you to their annual open house the first Saturday of December. You can see
more of her artwork at www.jbenn.com.