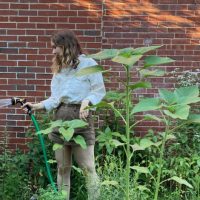 Isabelle Maschal O'Donnell '17
Isabelle Maschal O'Donnell is a textile artist who currently lives and works in Portland, Maine. Her work draws influence from traditional craft processes, the natural world, and repurposed textile materials. She holds a Bachelor of Fine Art from Maine College of Art, and has exhibited at venues including Able Baker Contemporary, BUOY Gallery, Boston University Stone Gallery, Institute of Contemporary Art at MECA, UNE Ketchum Library Gallery, and the Center for Maine Contemporary Art. Her work has been published in ArtMaze Magazine and Friend of the Artist, and she has attended residencies at the Stephen Pace House, Hewnoaks Artist Colony and Arrowmont School of Arts and Crafts.
Online Exclusive Available for local pickup and shipping.