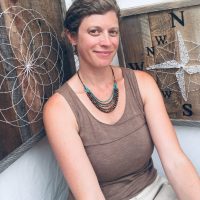 Heather Kelly BFA '19 of Nail it Art
Heather Kelly is a mom, a maker, nature lover, and is the creative force behind her company Nail it Art. Nail it Art offers rustic handmade string art home accents. More recently Heather has pursued her interest in patterns found in the natural world, including the golden ratio and the flower of life. This new body of work is an exciting new chapter, and is in a class all its own. All work is made with authentic reclaimed wood, making each piece special and unique.
Available to view at the ICA at MECA June 17-20. Local Pick Up Only – not available to ship.