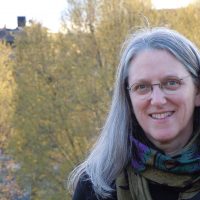 Connie Hayes '80, Hon. DFA '03
Connie Hayes is a painter living in Rockland, Maine. She received her M.F.A. from Tyler School of Art at Temple University in Philadelphia, and Rome; her B.F.A. from the Maine College of Art in Portland; her B.A. from the University of Maine, and received fellowships to Skowhegan School of Painting and Sculpture in 1989 and the Vermont Studio Center in 2013. She taught at the Maine College of Art for 10 years and served as their interim Dean of Faculty in 1992. In 2003 she was awarded an honorary doctorate in fine arts from the Maine College of Art. From 1992-1998 she lived in New York City, and since 1990 her project Borrowed Views involves living and painting in others homes as an artist-in- residence. Collections and commissions include the Portland Museum of Art, the Farnsworth Art Museum, the American Art Museum in Asherville, the Ogunquit Museum of American Art, The University of Maine Museum of Art, Monhegan Museum, University of New England Art Gallery, Rockefeller Collections, ABC Good Morning America, The New Yorker, Fortune Magazine, L.L Bean, and the Art in Embassies Program. For 2014 and 2015 she was on the summer faculty of the JSS School in Civita Castellana, Italy.
Available to view at the ICA at MECA June 17-20.