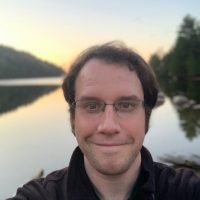 Chris Gray is a Maine-based oil painter whose portraits and landscapes explore memory, tradition, and the edges of experience. Gray received his MFA from Maine College of Art in 2021, with previous degrees in Art and Music from Bowdoin College (BA in Studio Art) and University College Cork (MA in Ethnomusicology). Gray's paintings are heavily influenced by his background in Irish traditional music and his personal experience of ulnar neuropathy. In 2018, bilateral nerve damage required Gray to take a step back from the music, and inspired a significant shift in his studio practice. He began to seriously explore memory as it relates to artistic and musical traditions, looking at the ways in which the performative act of painting can revive, reify, or transform memory in a manner that parallels revivals of traditional music. Chris Gray is a member of the Coastal Fine Arts Alliance
of Maine, and he was the 2019 recipient of the Bangor Art Society's Open Juried Show award for First Place in Oil Painting. Gray's work has been featured in numerous group and solo shows along the coast of Maine, including shows at the Shaw Gallery, the Salty Dog Gallery, and the Cornerstone Gallery on Mount Desert Island.
Online Exclusive Available for local pickup and shipping.