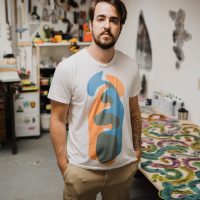 Carter Shappy '15 of Studio Shappy
Carter Shappy has lived and worked in Portland, Maine since graduating from the Maine College of Art in 2015. He is the print and wood shop manager at Running with Scissors Artist Studios, where his studio practice is also situated. His works are a part of private and corporate collections throughout the US and have exhibited in various non-traditional and traditional art spaces in Maine and elsewhere. In 2016 he was the first ever artist in residence at the Bigelow Laboratory for Ocean Sciences, working closely with their scientists to image and build a two-story suspended print installation titled Colorcosm. He is currently the lead preparator and a contributing artist to the Gulf of Maine EcoArts, "a multi-year art, science and educational initiative that focuses on the changes in biodiversity in the Gulf due to climate change and other human impact." Shappy's work is inspired by his interests in natural phenomena, perception and psychedelia. By embellishing and transforming mundane elements of our lives, he encourages a reevaluation of peripheral or commonplace things and experiences. Working in a variety of mediums, he is frequently drawn to intersections in printmaking, painting and installation.
Available to view at the ICA at MECA June 17-20. Local Pick Up Only – not available to ship.