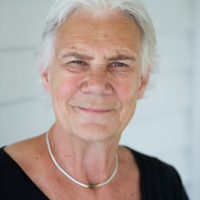 Anna Dibble's paintings have been featured in solo, group, and invitational
exhibitions in museums, cultural centers, and galleries for over forty years:
Vermont, Maine, Connecticut, Massachusetts, Rhode Island, New York, and
Maryland. Spaces include the Portland Museum of Art ('Untitled—2020'), George Marshall Store Gallery,York, Maine, Cynthia Winings Gallery, Blue Hill, Maine, Carver Hill Gallery, Camden, Maine, Elizabeth Wilson Museum,
Manchester, Vermont, Sarah Doyle Gallery of Brown University,
Providence, Rhode Island, Atrium Gallery of Bard College, Great
Barrington, Massachusetts, Strathmore Gallery, Bethesda, Maryland,
Institute for Contemporary Art at Maine College of Art, Helen Day Art Center, Stowe, Vermont, and A.P.E. Gallery, Northampton, Massachusetts.
Currently, Dibble is the Founder/Director of 'Gulf of Maine EcoArts' and 'The Bigelow Project' – including curation of a large-scale sculpture installation opening at Bigelow Lab in East Boothbay, Maine, fall 2021. She was a freelance writer, music composer, and co-designer for multiple
animated shorts on Children's Television Workshop's Sesame Street. She has designed and created sets for opera and theater, taught workshops in both visual art and writing in Vermont and Maine schools. In the 1980s and 90s she worked in commercial and independent animation in Los Angeles – feature films, television specials, theatrical shorts : Disney, Marvel, Hanna Barbera, theatrical shorts : Disney, Marvel, Hanna Barbera, Murakami- Wolf, Don Bluth, among many others. Dibble studied at Parsons, New School, Boston Museum School, Vermont Studio Center, Pittsburg Art Institute, and with mentors: her landscape artist father, Thomas Reilly Dibble, Vermont sculptor Lothar Wuerslin, Pittsburgh printmaker/sculptor George Nama, and Massachusetts painter Paul Stopforth.